Curriculum
Dimitri Herskovits - Via Palermo 18 20121 Milano - mobile: 0039335-8201303
Languages: Italian/Franch mother tongue English/Japanese fluent
2007 GREY Advertising, Budapest, Press writer for clients: Philips and Vodafone; Writing Press Release in English, to be translated into several Eastern European Languages for their local markets.
2005-2006 Spent to write my book, "Dentro e fuori" ( Inside & Out ) a collection of 27 short tales inspired by images gathered from Advertising. Enrico Finzi, president of "ATP" Advertising Professionals Association in Italy, presented the book on 11 September 2006 at the "Circolo della stampa di Milano" ( Milan Journalist Association ).
2002-2005 Nomad Magazine, Fashion Scout and story writer, introducing the city of Tokio, Milan, ( Shanghai is next), searching for new trends, designers, clubs, lifestyles and attitude towards life in the different cities.
2002 International PR for Naba ( New Accademy of Fashion and Arts, Milan). PR for Studio di Carla Ghiglieri, Fashion Photographers'Agent in Milan and Paris.
2000-2002 Content Architect and Concept Designer in the Web industry for the following Agencies: Athena 2000 (Fininvest Corporation), that changed the name into Yond, then GreyInteractive.
1999 Freelance Japanese-Italian interpreter for Japanese buyers in the fashion industry.
1997-1998 Live in Tokio, learn at least how to have a conversation in Japanese.
1993-1997 My career, after graduation, first beguines as Assistant Account in Grey Advertising NY, then Senior Account in Telecom Italia Mobile, Italian National primary Mobile Company, in Milan. This start gives me the opportunity to realise that I'd become a better creative than a business person, I have to admit.
Studies
1998 Nichibei Kaiwa Gakkuin, Tokio, Japanese Language for foreigners.
1993 Accademia di comunicazione, Milano, degree in Communications.
1990 NYU, Marketing course; Columbia University NY, Busines communication.
1989 ITSOS, Milan, Foreign Languages high school.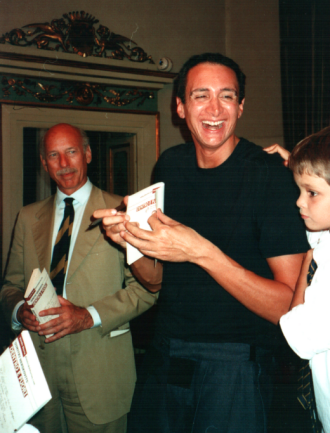 11-9-2006 - Circolo della Stampa, Milano,
presentazione del Libro "DENTRO E FUORI"